Solterra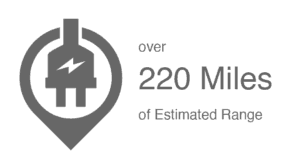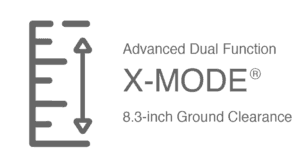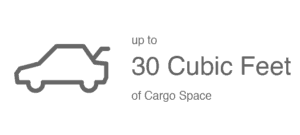 Love Your Subaru and the Earth
The 2023 Solterra is our first zero-emissions all-electric SUV.
The Solterra lets you explore the outdoors and help protect it at the same time. The advanced StarDrive powertrain means no tailpipe emissions and no need for gasoline or oil changes, so every mile has significantly less impact on the environment. The Solterra is the latest example of our commitment to safeguarding the natural world we all share – and it's just the beginning.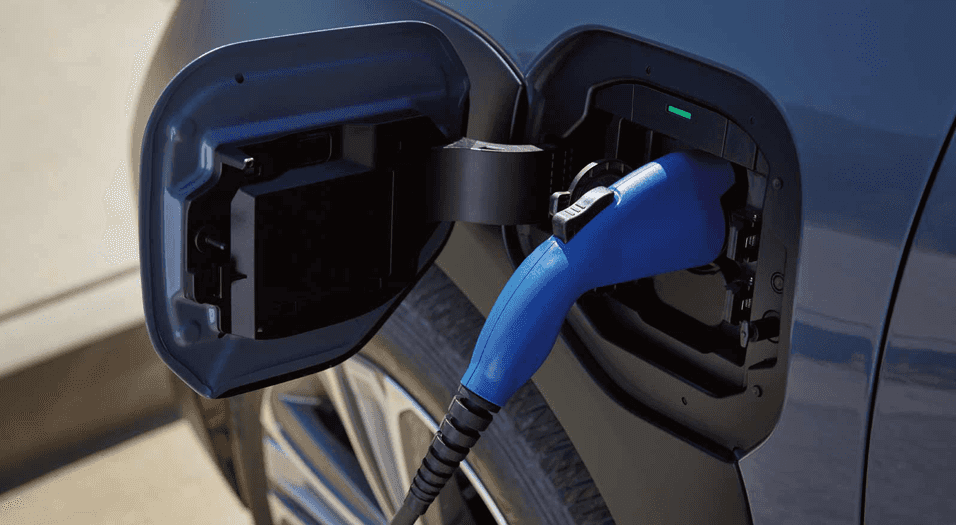 OVER 220 MILES
OF ESTIMATED RANGE
The StarDrive powertrain gives you an estimated range of over 220 miles with standard Symmetrical All-Wheel Drive as well as a variety of options for fast and convenient charging, both at home and on the go. The Solterra comes with a charger that works with any standard 120V outlet for Level 1 charging, and you can have a 240V Level 2 charger installed for even faster charging. Either way you charge, you can wake up each morning to a full battery and all of the legendary capability of a Subaru, which means you're ready for any adventure.[1]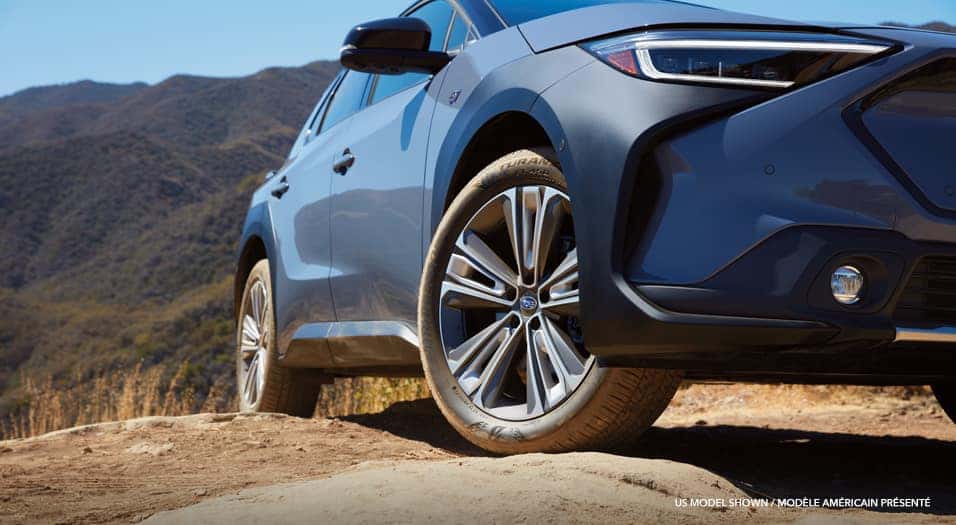 8.3 INCHES OF GROUND
CLEARANCE & X-MODE
The 2023 Solterra features 8.3 inches of ground clearance and short overhangs for easy maneuverability over rough terrain – so you can go places traditional electric vehicles typically can't reach. Standard X-MODE with Hill Ascent and Descent Assist lets you choose the perfect traction setting to match the trail conditions in front of you for enhanced stability and total control.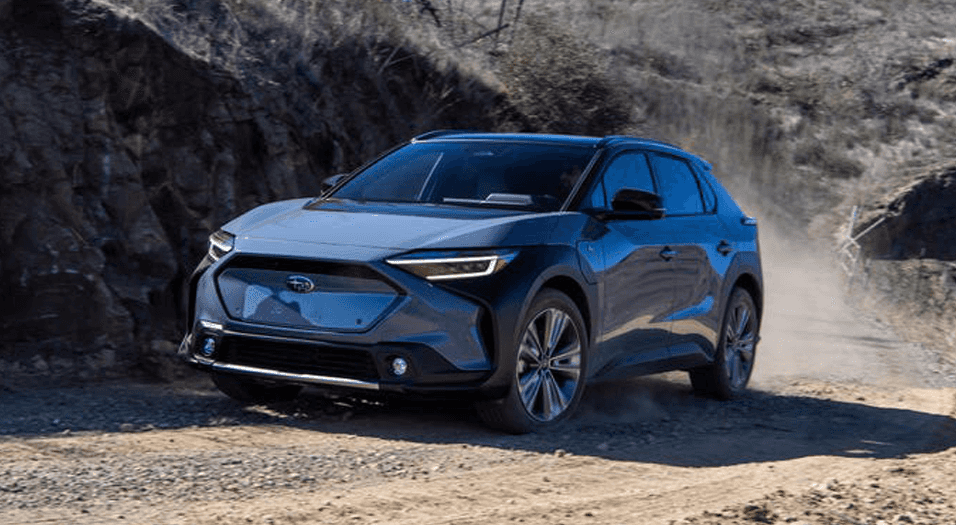 STANDARD SYMMETRICIAL
ALL-WHEEL DRIVE
As the first-ever all-electric SUV to feature the capability of Symmetrical All-Wheel Drive, the 2023 Solterra takes this legendary all-weather, all-terrain traction system to exciting new places. The balanced design of Symmetrical All-Wheel Drive creates uniform stability and delivers an optimal distribution of power for maximum traction and improved handling. Couple that with the smooth linear output of the dual electric motors in the Solterra and you have outstanding traction and capability on all kinds of road and trail surfaces and in almost any weather condition.
INQUIRE ABOUT AVAILABILITY
Frequently Asked Questions
1. What does it mean to "Join a Waitlist"?
"Join a Waitlist" means that a participating retailer has no additional capacity for reservations at that time. Joining a waitlist signals to a retailer that you want to be contacted if a Reservation Opportunity becomes available in the future. You may join the waitlist for more than one retailer.
2. Can I make more than one reservation?⁠
No more than one Reservation Opportunity per person for a 2023 Solterra is permitted. A multi-person household may have more than one reservation if the reservation holders are separate customers.
3. What happens to the refundable $250 reservation deposit once I submit it?
Subaru will hold all deposits in a secure non-interest-bearing account. Deposits can be applied to the final sold order for a 2023 Solterra by the selected retailer. If your selected participating retailer is unable to contact you in June 2022, your reservation will be automatically cancelled, and the $250 deposit will be refunded.
4. Can I cancel my Solterra reservation?
Yes. Your $250 deposit will be fully refunded once the cancelation has processed. How you cancel will depend on your date of cancelation: Cancelations before pricing is announced: Customers can go to Subaru.com or can call Subaru Customer Support at 1-800- Subaru3. Cancelations after Pricing is announced: Customers will get refunds in June.
5. Can I make changes to my vehicle selection after I submit my reservation opportunity?
Yes. Your selected retailer will contact you to confirm your preferred trim, interior color, and exterior color selections. During the conversations between you and your selected retailer you will have the opportunity to discuss any desired changes with your retailer.
6. When will my vehicle be available?⁠
Your selected retailer will contact you when your Solterra is available for delivery. Delivery times will vary based on production and availability. Your retailer will assist in estimating the date of vehicle delivery before your final order is placed.
7. What do I use to reference my deposit with the dealer?
You will need to provide your first name, last name, email, and zip code.
8. How long does it take to refund my reservation deposit?⁠
Reservation deposits may take up to 4-6 weeks to process after cancelation.
9. How long will Subaru hold my reservation deposit?⁠
Subaru will hold your deposit until you cancel your reservation or until your 2023 Solterra is delivered.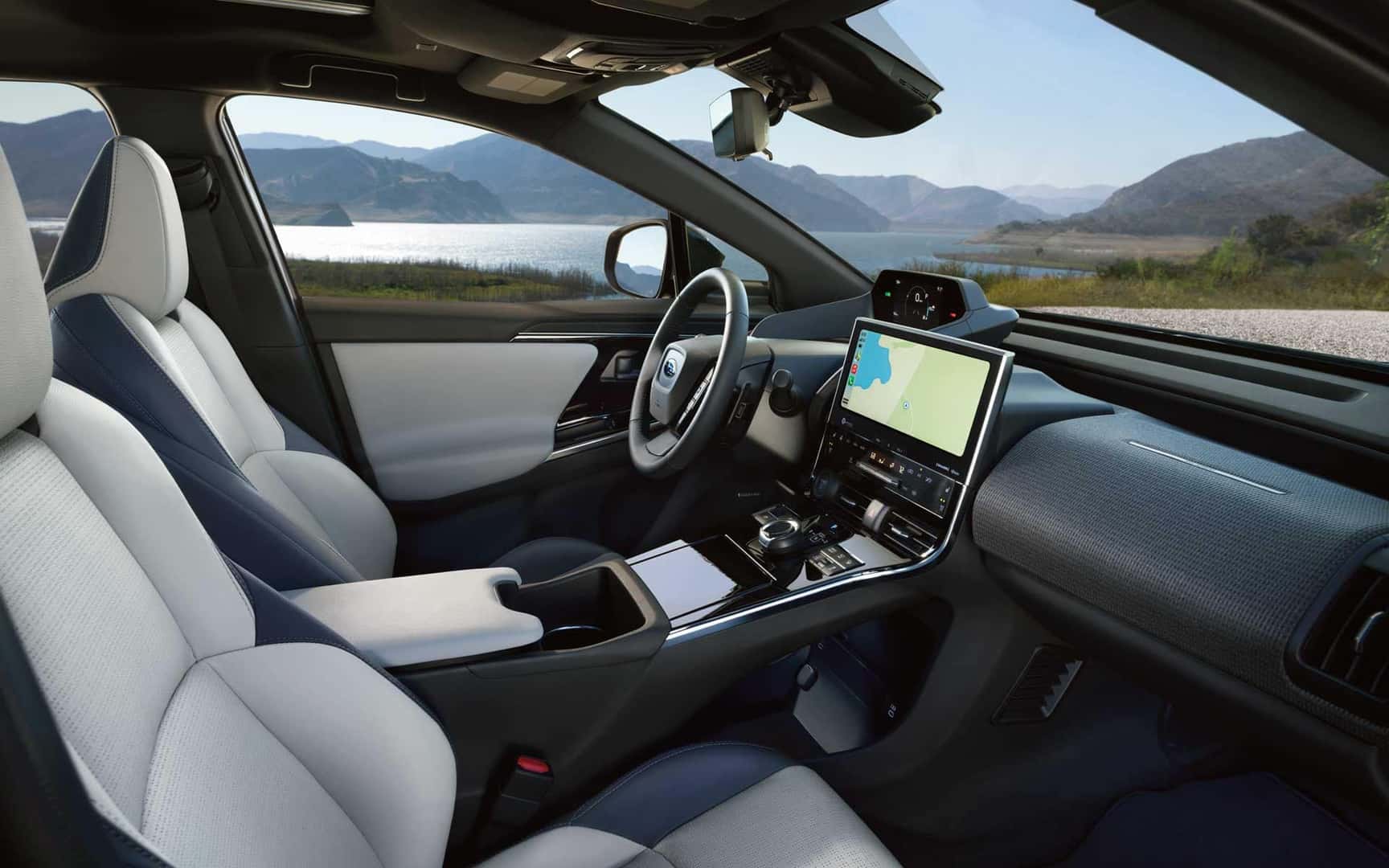 Disclaimer 1 Time to charge overnight based on Level 2 charging speeds. Charge times can vary depending on many factors, including temperature, type of charging system, and condition of the vehicle and battery.